Maybe you all knew this already and just forgot to share, but I don't really spend that much time on Facebook. So it surprised me when I ran into — completely by accident — a new (?) feature that seems to allow you to import from other social networks without having to add another application.
It covers such networks as delicious, last.fm, flickr and many others.
To do it, you need to click on "Settings" just above your wall on the far end past 'posts by others, posts by you.' From there, click on "automatically import activity" link and you'll see the bevy of options.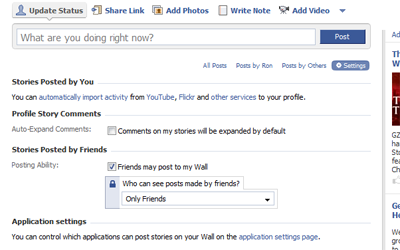 Should solve the problem of many of the applications (like last.fm's profile box) not showing up on the front page of your profile, since the switch to the "new" facebook design.